Adams and Russell Dominican Republic Barahona AA Coffee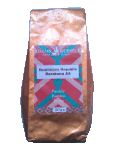 This coffee has been roasted so lightly and the beans are so light beige that they look like fossilised remains swept up from the floor of Starbuck's Pompeii branch. Each bean has a lot of "chaff" in the middle too – after we'd ground them we had to put them through a bloody threshing machine. This is not a strong coffee – and you can't overdo it either. We really spooned this up to the max. it's a really fruity little coffee – not what we were expecting from a Caribbean coffee at all. It could easily be mistaken for a top-notch Kenyan. Packed full of flavour and with a nice creamy head on it – this really is a good 'un. I can only give it an 8/10 though as it just lacked punch for me.  But I still loved it. What am I saying?  Scrap that…it's a 9/10.
What the Manufacturer's say:
"A very rare coffee. Full, intense, well balanced coffee which delivers a rich aroma of cocoa and spice."