Pact Finca La Joyeria Coffee Beans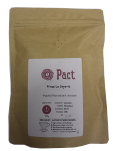 Another great metaphor from Pact - poached pear they claim in this one. The taste buds of those Pact kids must be so finely tuned that not only can they detect pears in this - but how they have been cooked!  Suffice to say - we couldn't taste them, being just your average coffee plebs. But plebs we may be, we know a good drop when we get it and this is our second packet of Pact to deliver. It's great - it's a heavy, full flavoured coffee, with a nice pale foaming head on it, more akin to a real ale than a coffee. It's smooth as hell and slid down in seconds, despite us spooning it up big time - there was nothing we could do wrong with this one. We don't know how you could get any of this without going on their mail order scheme... but we suggest you try. 8/10
What the Manufacturer's say:
"Colombia's Antioquia region can be found in the central northwestern part of Colombia. A small, narrow section of this territory borders the Caribbean Sea, but most of it sits amongst the peaks and valleys of the Andes mountain range. It's here that you'll find The Santa Bárbara Estate. Thanks to its altitude the farm enjoys an abundance of microclimates that bring out all the unique qualities and flavour-quirks of the coffees grown there.
The Santa Bárbara Estate covers 450 rugged hectares and employs 60 people all year round (each of whom earn an average of 30% above the minimum wage). Half of these full-time employees also live on the farm, where they and their families receive free housing. Then when things get busy during the main harvest, a further 1,200 pickers are hired, who are mostly farmers from the surrounding area and pick coffee to top-up their income.
This coffee comes from the main mill on the Santa Bárbara farm and is made up of all the estate's lots that score more than 86 points (out of 100) on a Cup of Excellence score sheet. Because they taste so good, these lots are stored and milled separately from the estate's volume production. Fancy.
Poached pear and dark chocolate."