Percol Guatemala Arabica Coffee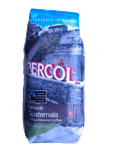 Percol have gone and done it with this one. It's a bog standard strength 3, the packaging is the usual Percol awfulness and yet it's bloody marvelous. Every time, without fail, it's come out punchy, smooth and satisfying. Even a child could make a good cup of this one - unlike that Waitrose one of a few days back where one grain too many or less rendered the whole mug repulsive. The fact that it looks so bland in the pack may be adds to this one's appeal - Percol certainly aren't singing from the rooftops about it. They should be! Wait for it.. 10/10!
What the Manufacturer's say:
"Percol Fairtrade Guatemala ground coffee has a wonderfully seductive flavour with overtones of dark chocolate mixed with fruit. It's delicate and refined aroma, gives this coffee a finish comparable to a great wine."