Taylors Espresso Coffee Beans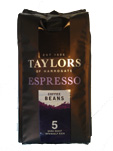 Coarsely ground this came out fighting from its corner. A real heavyweight - and you'd expect it to be, being called an "espresso". Of course we had a whole mug of the stuff, not four drips in the bottom of a poncy "cup" that would look more at home on a doll's house table. It is bitter - might be more to do with our grinding technique again as the mug was full of powder - this wasn't a liquid - more of a semi-solid. Still, we like that on a Friday afternoon. Whether it will help with my current headache is open to question. This one is said to be made of four different beans - is that by design or from sweeping the roasting house floor? Who knows - it's a high scorer whatever. I'd have given it a 9/10, but I have to peg it down 1 for the ball-ache of having to grind the bugger ourselves. Taylors: that's YOUR job.
What the Manufacturer's say:
"The coffee cognoscenti of Northern Italy are famed for their espresso blends. Our Espresso combines Brazilian coffee for balance, Indonesian for chocolate, Kenyan for sweetness and Ethiopian for a strong burst of flavour that's followed by a smooth lingering finish."