Brown Bear Original Blend Coffee Beans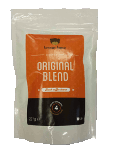 Another blend from the guys at Brown Bear - this time a strength four. Everything looks "normal" about this one - the raw beans, the ground beans, the brewed beans.... nothing to write home about so far. But, while it's brewing we read the packet - "rose water finish". What the f*#k is that? Firstly - who on earth has been drinking rose water to know what it tastes like? If that's the kind of thing these Brown Bear boys get up to in their lunch break, then we've got to ask are they even from this Earth? And not only that - they don't claim it fully tastes of rose water - only the finish! What the?! There must be something wrong with our taste buds then, as we're getting no roses here at Judge Towers. If anything, it's a bit ashy this one. But not in a horrible way - just in a good first-thing-in-the-morning kind of way. Hmm... on re-reading they claim the finish is also liquorice. I think their marketing boys must have been on some heavy hallucinates when they knocked this one out. Still, piss-taking aside, the coffee's good - works well as a wake me up - nothing fancy and easy as hell to make. Just grind-brew-glug. That's it. So, one point off for the marketing bullshit, gives it a 7/10
What the Manufacturer's say:
"Brown Bear Original Blend is deep, rich, chocolatey and punchy with a powerful liquorice and rose water finish. Earthy notes throughout with an underlying spicy chocolate feel. Excellent body that cuts through milky drinks well."
Where you can buy it:
You can try Amazon
  good luck!