Brown Bear Sweet Brazil Coffee Beans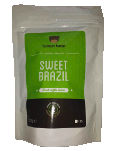 These Brazil beans are big and dusty - they look like they've been bleached out in the sun. Once ground they are very light in colour and that made us nervous. This one looked weak.
And so it proved - no matter how much we spooned this one up we couldn't get the kick we needed from it. What this coffee is, is light and refreshing. Now, that's not something we Judges crave in a coffee - if we want light and refreshing we'll knock up a big jug of Pimms. The flavour is definitely a bit nutty though - which is what they say on the packet too. So - most normal coffee drinkers I expect would love this one - it does exactly what it says on the tin, so we can't really fault the Brown Bear boys on it. But for us it's just too wimpy. 6/10
What the Manufacturer's say:
"Sweet Brazil is nutty, sweet and distinctly Brazilian. Malty notes and good body. Good levels of chocolate and caramel."