Cafe Direct Machu Picchu Peru Coffee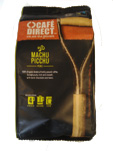 We've already reviewed this exact same coffee, but as Beans, not ground. So that's one variable taken out of the equation. We made a 6 spooner and it looked like used sump oil going into the cup - you really can notice the oily looking surface. The first mouthful felt like a punch in the throat from Mike Tyson; the second felt like him ripping your ear off - this is definitely not one for sissies. A whole mug of this bad boy is just too much - we must have over-egged it. I can't go higher than 5/10 just yet. Try again with a weaker mix.
What the Manufacturer's say:
"Single origin Arabica beans are grown at high altitude deep in the Inca heartland, for a richer, smoother tasting coffee with overtones of fine dark chocolate."