Cafe Direct Machu Picchu Peru Coffee Beans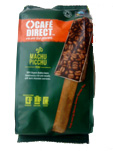 So we have to grind the beans for this one. I'm never sure if it makes any difference - that fresh ground is better that already ground. It's easier to OD though - you know that 5 spoons of this would be too harsh. The smell from the cup is not massive - it could be anything - but that's always the way with freshly ground. This is an expensive brew - 4 quid a packet - and for that I expect a lot. At 4 spoons I just don't think it does the trick - the lingering heavy coffee aftertaste is just not there. It's nice for sure... but needs a re-test on 5 spoons. Rated 6/10 on this first taste.
What the Manufacturer's say:
"Macha Picchu fine 100 Percent Arabica coffee is grown at high altitude deep in the inca heartlands of the Andes, So you get a richer, smoother tasting coffee with overtones of fine, dark chocolate...and a perfect excuse for a top up."