Climpson and Sons The Baron Espresso Blend Coffee Beans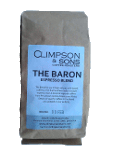 The Baron is a real mash up - 4 different types of coffee blended together. Is that for flavour or just a way of using up all the leftovers in the bottom of the bag? Hank had the first couple of goes at this one and it lived up to its name: Baron as fuck. Very weedy with no real punch. So we sent him back to the kitchen for the next one - and it came out the same. Maybe Hank has been spending too long nursing frappacinos down at the BHS cafe - 'cos it seems like he's losing his touch. Judge Nooge had to take over production and really kick some arse with the grinder. Get it ground finer, spoon it up and steep it longer. After that little regime the Baron started firing on all cylinders and shooting down the frappacino lightweights - WOOF WOOF!. There's no complex flavours in this one - it just does the business, when made right. It can go as strong as you like too, there's was no hint of overdone about this one. 8/10 - loses one for the tweaking needed. Not for amateurs.
What the Manufacturer's say:
"The blend for use in high-volume milk-based coffees, of for that Southern Italian straight espresso show. A blend of regional coffees from Peru, Brasil, Central America and Africa. A balanced blend, roasted to the sweet spot for espresso. The emphasis is on sweetness, with a full-bodied mouthfeel and a lightly floral finish. This coffee extracts a lovely crema, inviting straight espresso lovers and milk-based drink fans alike. The blend is based on the Peru/Brasil combination, which act together as a smooth, sweet base. The Central American and African coffees in the blend contribute layers of fruit acidity and winey-earthy notes. Current coffees in The Baron: 44% Peru Chanchamayo Co-op. Sweet, smooth, slightly floral, delicate acidity. 40% Brasil Daterra Estate. Sweet, smooth, low acid. 8% El Salvador Diamante SHG. Very sweet, orange note. 8% Malawi Viphya District Geisha. Milk-chocolate sweet, linear acidity."