Climpson and Sons Climpson Estate Kenya-Led Blend Coffee Beans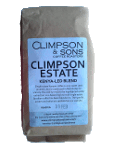 It's 10 past nine and there's still nothing on the table... "I'm going to brew up" I say.. "NO - i'll do it" shouts Hank, grabs the Climpson's bag and off he trots. He's got an obsession with these little brown paper bags, of which we've got four. In his head he's already loving it - this just goes to show how important the packaging can be to a coffee drinker. He makes it strong and finely ground - yet the result is not heavy. It's a mild, sweet brew - almost needing no sugar or milk. Is this a feature of these Climpson coffees? This one feels just tasty, without that feeling that it's doing damage to you, from which you'll never recover. It's too mild for me - maybe I need to try this in the new Gaggia machine gracing the kitchen at home. Until then, 7/10.
What the Manufacturer's say:
"This blend has been built to showcase the qualities inherent in Kenya coffees: sweetness, a delicate and linear acidity, a floral nose and a touch of nuttiness. However, the main intended use is as an espresso blend, great as a shot and bold enough for milk. Therefore we have included a wonderful Brasilian single estate that is very sweet and balanced to give body to the blend, and the roast is towards the full-medium stage of the roast spectrum. Perfect for a complex espresso flavor, this blend tastes medium-bodied in cafetieres and in filter methods produces plenty of floral sweetness whilst being underlined with roastier notes from the espresso roast profile. Coffees in the blend: 50% Kenya Acacia Estate. Sweet, floral, intense fruit notes. 50% Brasil Daterra Estate. Sweet, low acidity."