Douwe Egberts Cafetiere Blend Coffee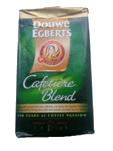 A standard, always available coffee. No matter where you go, you can pick this one up, and to be honest, it's nothing special. It's not overly strong - we just did 5 spoons for 2 cups. The flavour is there, but it's the kind of coffee I'd expect to be served in a restaurant or something - just a generic filter coffee. It's got something of a dry aftertaste too which lingers around. Drinkable enough but I just wouldn't rush out and buy it unless it's all that's available. Scores just a passable 5/10 at this point.
What the Manufacturer's say:
"Douwe Egberts Cafetiere Blend is a blend of the finest quality beans from around the world.  Medium roasted for a full flavour & smooth taste our Master Blenders have developed this coffee specifically for use in Cafetieres"