Eduscho Espresso Classico Coffee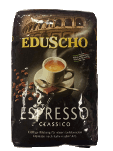 We picked this one up on a recent ski trip to Austria. Like all the coffees out there - there's not much to choose between them.
They'll all dark as hell - having had the nuts roasted off them in some kind of industrial furnace. Which means when you make it you have to have a steady hand. One extra grain could mean the difference between life and death. The only phrase to note on the side of the packet is "savory" - a word I'd more normally associate with a packet or Twiglets. Rest assured - there is no hint of savory in this. It's just your standard hard roasted Austrian. Dark and liable to punch you in the face. make it right and you'll love it - over do it and you'll choke. It's that simple. 7/10
What the Manufacturer's say:
"This is translated from German: "Powerful aroma, savory taste. Strong roasting for an invigorating espresso Italian style for Eduscho Espresso Classico are combined to form an exquisite composition only finest beans of perfect quality to original Italian recipe. Through the dark roast flavor gets its completion. An espresso with an intense and hearty flavor.""