Ginerva Miscela Special Coffee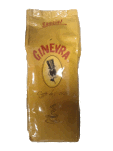 This coffee is the El Cheapo of the Ginerva range, and it's 100% Robusta. That sounds like a bloody terrible combination and your coffee gagging reflex should be preparing itself for the worst. The beans are small and dark - and there's not much more you can say about them than that. After grinding, you'll be struggling with what looks like a thick, black, tarry mess all over your plunger - and i don't like anything messing up my plunger. It's not even giving off a good smell - no one will be rushing in to the kitchen telling you how good it smells brewing up. So far, so bad. Until... you get this stuff down your gullet and you quickly realise that this one is a dark horse. It's a right little cracker. Yes - you have to like your strong coffees to appeciate it and want to be slapped around by those dinky Robusta beans. But at only a tenner for a 1kg pack this is such good value - just get yourself some, and mainline it. Now. They've rated this at strength four and a half - which is a new one on us. It's a an 8/10 from me - and I've only docked it as it brews up so un appetisingly. Just don't show your guests the mess and you can be a cheapskate coffee hero.
What the Manufacturer's say:
"Our most popular blend here in the UK is quite unique. 100% Robusta coffee beans sourced from 3 different farms, blended together to create an "old-fashioned" style of Italian coffee. Producing an incredible crema, long-lasting aroma and a strong, smooth taste." With a chocolatey taste and an aroma that explodes into the room once you open the bag, it's no wonder this blend is becoming very popular across Great Britain. Dark roasted and made with 100% Robusta coffee beans originating from Africa, India and the orient. Perfect for an espresso but also stands up strong when introduced to milk, the perfect all-rounder."