Grumpy Mule Finca Las Cochas Colombia Coffee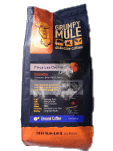 This was a huge £7 in our local deli - so we're obviously expecting big things. Unfortunately there is nothing special about this "micro-lot" coffee. There is no depth of flavour at all - it's just utterly mediocre. That doesn't mean it's horrible - we all liked it - but there's nothing more you can say about it than that. It's quite a weak roast too - we really spooned it up and still there was no punch in this one. All of the 'notes' claimed on the packets - (chocolate, honey grapes..) are a figment of the marketing department's imagination. This is a an ok £2.50 coffee dressed up in fancy clothes, that's all. I can only score it an average - 5/10.
What the Manufacturer's say:
"With notes of dark chocolate and honey, a velvety smooth body and a white grape finish"
Where you can buy it:
You can get a load of Grumpy Colombian here at Amazon