Grumpy Mule Rwanda Musasa Coffee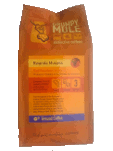 We've been going through a renaissance with the Grumpy Mules, which was mainly brought on by price - they were all so sodding expensive. Turns out though, it's just our local Deli that's ripping us off - there is no £8 packet of Mule out there in the real world - it's just a special price for us Mugs who he saw coming through his enormous Mug spotting windows. So, now were over that, we can just start enjoying it. This one is a case in point - it's fruity and punching above it's strength 3 rating. Every cup has come out good - it's a great beginners coffee - you just can't fuck this one up, even if you cant count up to the required 6 spoons you'll still be ok and your friends will love you. Slurp it down... and give us more Mules! Scores an 8/10 - only lost it bit from this Judge for the lack of ball crushing strength.
What the Manufacturer's say:
"This is a highly distinctive and sweetly aromatic coffee with a very clean, lemony taste. Lighter bodied but wonderfully complex and flavoursome. A Grumpy Mule Team favourite and a vibrant first cup of the day.     Now with around 2000 members of which around 80% are women, Musasa (or "Dukunde Kawa") Cooperative and the RWASHOSCCO organisation is based in the Rushashi district of Kigali Ngali province. The natural advantages of climate, altitude and Red Bourbon coffee trees presented a unique opportunity for Musasa and its farmers – to embrace the skills and knowledge that would allow them to grow and process high quality lots of coffees. None of this could have been achieved without the support of the PEARL (now SPREAD) Coffee Program, which has helped to establish localised cooperatives throughout Rwanda's coffee growing regions. This support has included the building of washing stations to process the coffee cherries, vital technical assistance and providing the foundations necessary to export directly to the speciality coffee market and its higher price rewards. Each year we buy a unique "E lot" of sun-dried Bourbon from the Musasa cooperative. These exceptional lots represent the very finest specialty coffees available from Musasa."