Hype Pure Mexican Coffee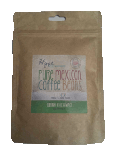 Mexico is not a big name in coffee for your average coffee drinker in the UK - but we've tried a few here at Judge Towers and their coffees are always firmly at one end of the scale: the top. That's not to say there's anything really noteworthy about this coffee though - it's not full of fluffy flavours and hints of elderberry. Hype reckon that this coffee is a cut above your average Mexican - so maybe we've been spoilt by only ever having good 'uns. We didn't get the fruity notes they claim - but maybe it's just too subtle for our agricultural tastes. But it suited us fine anyway - strong and dark and a doddle to make. We only got a two cups each out of our tester bag, but they were both identical. A solid 8/10.
What the Manufacturer's say:
"Some Mexican coffee beans have a reputation for being rather plain, but please be rest assured that these Mexican coffee beans are the exact opposite! You'll enjoy the fruity notes and deep taste of caramel that rests underneath. It has subtle flavours and an excellent mouth feel that are very pleasant. This coffee is grown in Mexico in one of the most beautiful areas in the modern world. The farm is located near a gorge where icy mountain waters flow through the jungle which is ravish with exotic and tropical life. It was first introduced in Mexico in the 19th centuary from Jamaica and since Mexico has become the worlds fifth largest producer of coffee - so they know what they are doing, and how to make a great cup."