Lavazza Club Coffee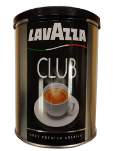 This is the best Lavazza we've had - and it doesn't seem to be available in the UK. We picked it up in France at the Carrefour while stocking up on cheap Chateaux du Closet. It's got the Illy style tin which makes a change from the usual Euro brick packaging that normally just ends up all over the floor – although it doesn't have the nitrogen whoosh as you open it. This is ground super fine - and we mean super fine. If you felt the need you could chop this stuff up on the back of the staff toilet cistern and just snort it down. The fine-ness means you need a bit of care when making it – the spoons will pile the coffee high on them and you'll end up with a brew that'll rip you're tongue out. But treated carefully, this is a great brew. It smells divine – everyone wanted one – and they got one – and loved it. It's a 9/10.
What the Manufacturer's say:
"Lavazza Club was created to satisfy connoisseurs' palates. Made up of a 100% arabica blend, it is softly, delicately aromatic. It is ideal for brewing with a mocha coffee-pot. Part of the varieties used come from small, selected high ground plantations: particular climatic conditions in those areas and the small-sized plantations provide very high-quality harvests, in every season."