Lavazza Qualita Oro Coffee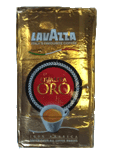 This one has been a real puzzle. First time round it had a creamy taste to it. Like it was crying out to be made stronger. It was also quite sweet tasting - I was definitely thinking that this is a coffee for girls. Then every time we've made it since it just got more bitter - now is this a part of the aging process? Can it change that much, over 2 days, kept in a sealed tin? Or is it some kind of reaction to us emptying the stupid vacuum pack out into the uber-cool Illy tin? Whatever, I needed a tiny bit more sugar to make this to taste for me. In the end though, it's a 7/10 while you're drinking it, but it does have a bitter after taste, which pegs it down to a 6/10.
What the Manufacturer's say:
"A blend of smooth and sophisticated taste for a pleasing and intense aroma"