Lidl Guatemalan Deluxe Coffee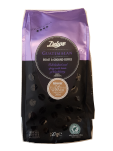 The Judges are back! After a two and a half year enforced break we're here again - and what better way to start than with the whole Lidl offering - of which this is the first. What have we been doing for so long you may wonder? Well, a few technical issues meant the website was well and truly f*cked. We were so wired on caffeine that we got behind with our site maintenance and got hacked - resulting in us being filled up with Viagra adverts. Of course it took us a few years to check each and every advert, call them up and test the wares. So let's just say we were "otherwise occupied" for a few years. But there's only so much hedonism us Judges can take and in a moment of guilt we decided to clean our act up, clean up the website and get back to coffee. But back to the coffee - we've become Lidl converts these days as they're cheap as chips but actually do the business.  The packaging defies their cheap and humble origins - Lidl have done a good job of disguising where this stuff comes from - it looks kind of premium. Now, we don't get much Guatemalan coffee - so didn't really know what to expect - but there's nothing out of the ordinary here. There's no fancy "notes" in here and certainly no bleedin' fruit, as they claim on the packet - but this stuff just hits the spot, is easy to make and gluggable as hell. Maybe we should have resurrected our tasting careers with something a little more distinct?  But who cares - when you just want a good and strong real coffee, this delivers in spades. it's an 8/10.
What the Manufacturer's say:
"Guatemala's volcanic soil, ample rainfall and constant humidity are perfect for growing coffee. Our deluxe Guatemalan coffee is full-bodied with spicy notes. It has a lovely long aftertaste with hints of blackberry"