Percol Rainforest Organic Colombia Arabica Coffee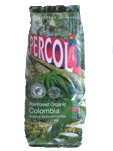 This is the best Percol we've had so far. There's nothing really to make it stand out and talk about - no aromas or notes as they claim on the packet. But it just delivers on smooth, full flavour with a pleasant  lingering coffee after taste. Every cup we made was consistantly good - you just can't cock this one up. It's just a shame it's yet another "grass seed" piece of packaging from Percol - stick this in a glossy packet and suddenly you have a luxury, quality coffee here. Petty to mark it down one for that but, hey ho - it's a 9 down to an 8/10.
What the Manufacturer's say:
"Deep, rich brown flavours in abundance. Delicate smokey notes fused with aromatic spices and chocolate can be detected in the taste and aroma."