Sainsburys French Style With Chicory Coffee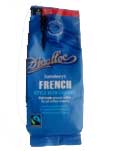 Well this was a real turn up. There I was expecting the most repulsive coffee known to man - sweet, spicy and full of "chicory" - whatever the hell that is. I don't know but it should be in FOOD and not COFFEE that's for sure. However... bigotry aside, this thing 'ain't bad. True we did have it ball-crushingly strong, which maybe masked the chicory shit. But I liked it! What the?!!  Maybe my taste buds are wrecked from that skinful last night - so I demand a recount. This thing must be awful... 7/10.
What the Manufacturer's say:
"Sweet and spicy similar to those served in the old market towns of France. Our French style blend is roasted to a precise time, temperature and colour. This coffee is medium dark roasted to produce a rich and intense flavour."