Sainsburys Taste the Difference Nicaraguan Fairtrade Coffee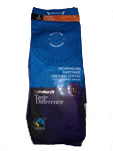 We were messed up here by having to siphon some of the brew off from the pot to dilute down for "a girl". Of course this threw out all our weights and measures which means we are comparing this unfairly with all the others. But my God this came out a right little belter - stronger than Geoff Capes and with more staying power than a Rutting Stag. We ended up with tons of powder in the cup though, giving a really dry finish - enough powder to start growing more coffee in. This has got to be down to the brewing - an own brander can't be this good can it? Rated a tentative 8/10.
What the Manufacturer's say:
"Grown on the mountain slopes of Nicaragua. A sweet caramel coffee with chocolate & hazelnut notes."