Sea Island Geisha Costa Rica Coffee Beans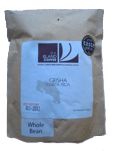 Both times we've made this, it's foamed up in the pot to the point where you could shave with it. But over the 3.5 minutes stewing the foam totally disappears and when it's poured it's completely flat and, let's face it, unappetising. But don't let it's bland appearance fool you this is a really well flavoured cup - from the first initial sip through to the lingering aftertaste. Even when it's gone, you still feel like you're drinking it. And enjoying it. When I started this one I tried not to think of the cost and vowed not to mention it. I've failed again - it's 13 quid a pack. Would have been an 8, but drops one for cost to a 7/10.
What the Manufacturer's say:
  "Geisha, one of the Ethiopian wild coffee varieties, is an ancient and very rare coffee variety. It has a soft, delicate profile with quietly complex aromatics that reward patient attention with notes of lavender, cocoa and hints of molasses. It is grown on the Coffea Diversa plantation in Costa Rica, close to the Panamanian border. The plantation is incredibly special as it grows the largest number of different coffee varieties in the world. Coffea Diversa has pioneered the botanical garden approach to coffee cultivation in which aspect the Estate remains unique."