Starbucks Bali Coffee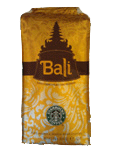 This has been a cock-up from start to finish. First off, it got made with a kettle of COLD water in a catastrophic user error. Then there's the fact we opened it a month ago and still havent reviewed it. Then the re-make turns out to be as anemic as hell. There is a flavour in there, but I'm not getting it in the usual 6 spoon cup. Scoring badly at 4/10 for now until we turn it up to 7. Maybe you need the "dark chocolate torte" rammed inside the cup at the same time?
What the Manufacturer's say:
"This is the first time we have offered a single-origin coffee from Bali. The island of Bali is a tropical paradise with a very diverse landscape - from rugged coastlines and towering volcanoes to tropical forests and sandy beaches. The north/northwest part of the island is where arabica coffee is grown. It is in this rugged and varied landscape that Starbucks sourced this complex coffee. 
It displays the signature full body with herbal overtones for which Indonesian coffees are famous. This coffee also features a sweet dark chocolate flavour that is definitively Balinese, making this coffee, both refreshing and indulgent.
This coffee will be seasonally available, therefore try yours while you can.
Enjoy with: Dark Chocolate Torte"
Where you can buy it:
Starbucks, and nowhere else.