Taylors After Dark Coffee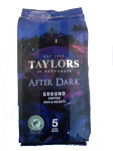 The packaging on this says it's is going to be good. Luxurious and still a healthy strength 5. I think we've been spoilt though by another knockout Lava Java this morning, because this one just lacks any depth at all. Rich and velvety is the description of the Java, not this. It's hard to judge it objectively now – it needs to be the first of the day and not following in the Java's wake. For now a 7/10... then updated to an 8/10!
What the Manufacturer's say:
"After dark is when things get intersesting. For this stimulating blends, we've darkly roasted African, Latin American and Indonesian arabica beans for a velvety smooth coffee with a rich chocolatey flavour. It's the perfect way to keep the conversation flowing long into the night - whether you're putting the world to rights with friends, or just getting to know someone better."