Taylors Colombia High Andes Coffee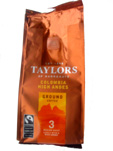 From reading the blurb on the packet from Taylors (see below) you'd expect this to taste more like a fruit bowl than coffee. Well thank god it actually is coffee. The only way you'll taste "lemony citrus notes" in this is if you suck on a lemon for half an hour before hand. Why is "lemony" a desirable "note" to have anyway?  And what the f*#k is a "note" and why is it in my cup? Anyway - the coffee is pretty fine - heavy and full of flavour. There maybe is a slight metallic aftertaste - you can still feel the coffee ten minutes later. For that reason I'd take it down a peg from a Judges rating of 7 to 6.
What the Manufacturer's say:
"This medium bodied coffee is grown in the foothills of the Andes, where perfect conditions allow the development of its character and spirit. The flavour bursts with lemony citrus notes and a hint of blackcurrent, followed by a nutty finish. The Colombian farmers invest the Fairtrade social premiums in improving local schools and protecting the forest where this delicious coffee grows."
Where you can buy it:
You can try here on Amazon