Taylors Take It Easy Coffee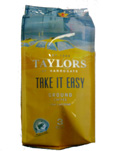 We can't knock this one just for being half strength can we? It does clearly say it's half caffeine on the side of the packet. For a coffee that's been through an industrial process, it's still got a lot of flavour and you wouldn't really know it had been mucked around with. It starts fine enough too - but as you get further down the cup, the lack of punch starts to grate. Eventually it becomes a bit sickly with the taste of the milk over powering the content. But that's because we like our coffee strong - so this coffee is actually delivering what it says it would. For most people it's probably a 7 or 8 score, but for this judge only a 6/10.
What the Manufacturer's say:
"New Yorkers are a pretty demanding bunch. And when it come to coffee, they know just how they want it. Take It easy is a combination of regular and decaffeinated coffee, inspired by a blend served in New York delis. Using arabica beans from Central and South America we've created a smooth half-caff with delicious hints of butter toffee - perfect for enjoying all day long."
Where you can buy it:
You can try Amazon here
for a load of Taylors coffee