Tesco Finest Colombian Supremo Coffee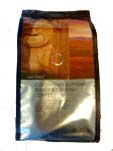 A good white foam on this one - it looks fantastic. But the taste is dry, bitter and lemony. The aftertaste really stays on your tongue too - there's no escaping this one once you've swilled some down -you're committed to this thing for the next 15 minutes, like it or not. Maybe it needs a bit more sugar than normal to try and balance it out. It doesn't have that cheap French-Hypermarket-Coffee burn, but it may as well be as cheap as it's as undrinkable - just in a different way. A very low judge rating of 4/10.
What the Manufacturer's say:
"This silky, full flavoured medium coffee is made from 100% Arabica beans originating from Colombia. It has a well rounded smooth flavour with a sweet aftertaste."