Union Hand Roasted Sumatra Takengon Coffee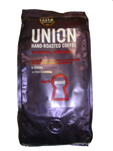 We were expecting the world from this for some reason. While it's not a bad brew, something was just not right. It doesn't seem fine, yet we ended up with a very powdery cup that had that dry, metallic taste. It smelt divine though - the whole building smelt like a coffee grinding mill. For now, we'll give it the benefit of the doubt and hope the error was in the making!  Judge rating (7/10)
What the Manufacturer's say:
"Exquisite Coffee: There's a certain character only a truly great Sumatra arabica coffee can have. You'll find it here: a deep peaty tone and a velvety rich smoothness make this perfect for after-dinner to enjoy with an equally robust single malt.
Fairly Traded: High in the Aceh Mountains lies a jungle forest where the small farmers of the Gajah Mountain Co-operative dwell. We travel to these remote regions to learn about the 200 farmers of Panpemleus and Kaybaykan villages and exclusively bring you their delicious, sun dried coffee. Triple hand selected, these beans are know as "Extra Fancy".
Artisan Roasted: Experience is the key to roasting this coffee so that its rich body comes through. Slow development is needed and the excitement builds to the final moments when all seems to come together. Our artisan roast adds an amazing note of caramel with a bitter chocolate dimension."
Where you can buy it:
You could try Amazon here