Waitrose Java Coffee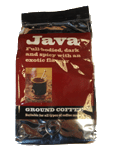 This one turned up from our rookie Judge "cougheee" with the bold claim of the next Lava Java. It was just the two of us and he made his first pot following the strict Judge's rules - 5 spoons. Holy shit - this thing was so strong he may as well have picked up a piece of lead piping instead and smashed me about the face with it. Surely there must have been a mistake in the making?  Tablespoons instead of dessert spoons maybe? So today Judge Hank is back, swaggering about, with the intention of putting things right. What gets delivered is thick, heavy and oily. Just by looking you know that this is going to hurt. And it does. So far under normal Judge rules this is the strongest thing ever tasted. The underlying taste is pleasant enough, but it's just hard to pick it out when your mouth is pouring with blood. Again I can't finish the cup - which must score it badly - but I know deep down there's a good coffee here, you just need to treat it like it's radioactive: handle carefully and brew in a lead lined caffetiere. I can only give it 6/10 for now - but I'm sure this will jump up when we get the strength right.  And this is a STRENGTH 4 for God's sake... I thought Waitrose was the store for lily-livered Guardian Readers!
What the Manufacturer's say:
"Full-bodied, dark and spicy with an exotic flavour. Waitrose Java coffee is grown on two farms, Blawan and Jampit. The farms are situated on the ljen plateau in East Java near the Kawah ljen volcano and the coffee is grown and processed at 4800ft altitudes. The coffee is specially produced from eco-friendly cultivation which preserves a sustainable coffee cycle that produces a better quality coffee."
Where you can buy it:
You can only get it from Waitrose/Ocado so get yourself moved to a more poncy area you chav.