The Whale Coffee Killer Coffee Beans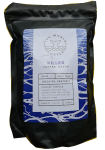 Here's a different concept for you - a coffee which is designed to actually be something other than just coffee. It's coffee like any other hipster Hackney roaster might offer – but it's very reason for being is that it's to raise money for a good cause. In this case, whales. By which they mean humpbacks and the like, not the good folk of Abergavenny. So we've taken a break from our recent diet of own brand cheapies to have a go of this.  So, first attempt, it came out the perfect strength for us. It's a meaty full-bodied brew that does not disappoint. From their own blurb, we were expecting it to be a no nonsense heavy hitter; but no. OK it's a strong 'un – but it also manages to deliver a whole heap of flavour. We didn't get any of the chocolate or marzipan Whale claim they've stuffed in the packet. Instead we got a much more citrussy taste – like the marriage of an Italian and Kenyan. What a great combo – we loved it. Fancy it? Well – you better really want to do some whale luvin' as this stuff will set you back twelve quid a pack. But then that's why you are buying it – to do something good and not just satisfy your own selfish needs for another caffeine hit?  So, despite the price – we'd say buy it as a gift for someone. That way they, you and the whale will all be happy. It's a 9/10 from us - only losing a point for the eye watering price.
What the Manufacturer's say:
The darkest of the darkest. Our special blend made only for those heavy coffee-drinkers that are able to take a punch. 
Roasted just enough to make the coffee stronger, it has a richer body and is roasted so it is close to the roast flavour without being burnt.
Made up of 100% Arabica coffee beans, this blend combines the best of many origins to craft distinct chocolate and buttery aroma with a smooth marzipan flavour at the start. This evolves to a rich butterscotch and hazelnut note in the finish.
You may taste mild notes of subtle dark chocolate, expect a syrupy golden crema.