York Coffee Emporium Ebor Blend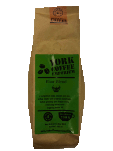 This coffee from the York Coffee Emporium claims to be a strength 4 - but when we brewed it up it didn't really hit us that hard. Read our review here.
This is a mild tasting coffee – slightly flowery even. We're not sure where their whiff of tangerines came as mentioned on the packet - or what an earth a moccha hit is meant to be. We didn't get either of these. Our only real gripe with it is that we couldn't really crank it up to the ball-crushing strength that we were after – no matter how many spoons we ladled into it, it remained as mellow as hell. This shouldn't put you off though – if you're a normal coffee drinker then you'll surely love this stuff. A wholesome 7/10 from us.
What the Manufacturer's say:
A delightfully deep, smooth and rich coffee. Starts with tangerine sweetness before grabbing your tongue with a deliciously intense and lingering moccha hit. Made from a blend of three coffees:
Guatemala Huehuetenango SHB - Sweet in aromatics with a fruity start reminiscent of tangerine then peters out to a milk chocolate finish.
Malawi Pamwamba - Bright with delicious Mocha and white wine notes, bit like a Yirgacheff but with more Mocha and pine nuts.
Papua New Guinea - An unusual and wild coffee with intense aroma, medium body delivering dark cocoa notes with a hint of walnuts.