York Coffee Emporium Nicaragua Finca El Bosque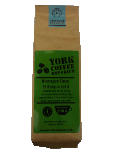 Our 150th coffee review and it comes from Nicaragua - which came to us directly from a roaster in York. The beans were still warm when we got them. Here's our review...
There's not much in there – it's a light weight pack and we only got 8 cups from it. Mainly because this feels like a very lightly roasted coffee – when we mixed this up with four spoons, the flavour was buried beneath the taste of water. So we had to crank it right up to five heaped spoons – which is the level this one needs. At that point though it suffers a little from a metallic after taste. The flavour's generally  good though – quite caramel like and not over powering -  So, overall it's nice enough but a bit of a fiddle to make it right – and you won't get many attempts with such a small dosage in the pack. I've not had a dose this small since that night with Little Jimmy Cranky. (7/10)
What the Manufacturer's say:
"An amazing coffee and this lot is exclusive to York Coffee Emporium. Complex and quirky delivering nutty caramel that the Nicaraguan's are famous for but the honey processing method also delivers a hint of sweet lime. Superb in the cafetiere and pour over but equally delicious as an espresso. With milk it becomes sweet and smooth. Julio Peralta owner of Peralta Coffees in Nicaragua has encouraged family members and fellow farmers to explore new ways of growing coffee and firmly believes his country possesses the complex conditions and technical facilities needed to create extraordinary flavours in the cup. As a result of this dedicated approach, there are now several of his family farms working to produce distinct characteristics by marketing individual lots as opposed to bulking everything together for export. Several of the farms involved in this practice have been award winning at the Cup of Excellence competitions in recent years.This year we have been lucky enough to be able to select a number of experimental micro lots from different farms dotted amongst the outstanding coffee growing regions of Nueva Segovia and Matagalpa in Nicaragua and our lot 3 is one of these. In previous years, Nicaragua has undergone several periods of turmoil that have truly hindered the development of the coffee industry. The overthrow of the Somoza dictatorship by the socialist Sandinista National Liberation Front in 1979 resulted in a civil war spanning the 1980s, forcing many coffee farmers to flee and devastating prime growing regions on the border of Honduras. Thanks to elections held as part of a peace agreement in 1990, the political turmoil was appeased and agricultural industry slowly began to improve. However any progress gained was undone by the shattering effects of Hurricane Mitch in 1998 which made 20% of the population homeless and caused billions of dollars worth of damage. Next came the world coffee crisis at the turn of the millennium which sent prices spiralling to rock bottom, crippling coffee farmers with unmet costs of production and colossal debt. These events have created giant -sized hurdles for a country that can, and now does, produce some very desirable coffees indeed."