Starbucks Tanzania Citrus and Blackcurrant Coffee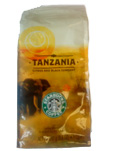 Our first Starbucks - people have been asking Where are the Starbucks?!!  So we picked this one to start, drawn in by the idea that this tastes of black currants. First things first: it doesn't. Again we fall foul of the self grind and I think over grind it, giving a very muddy coffee resulting in a dry taste. There's nothing else that stands out about this - which is shocking considering the whopping £4.25 price tag. That's nigh on double the cost of a packet of the Taylors Hot Lava Java. Needs a second try. Initial Judge rating just 5/10!
What the Manufacturer's say:
"Like the diverse continent they come from, our African coffees offer an array of marvelous tastes and experiences. Each coffee is truly distinct yet enticingly delicious, like our medium bodied Tanzania. Grown in East Africa's fertile Rift Valley, it has a crisp, clean flavour and pleasing citrusy notes."